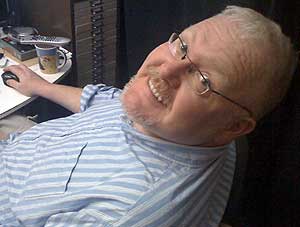 As it says on one of my other blogs: "I'm Max. Married with one wife. Still very happy."
Officially, that goes to show I don't measure myself by what I do for a living (even though the above sentence doesn't include the fact that I have two kids); however, for the purposes of this website, it's actually more important that I say who I am professionally, since you need to know why you should trust my opinions in the matter of content.
In a nutshell, I've been a journalist for more than 20 years beginning with print (newspapers and magazines) and making the [smooth] transition to online media (newspapers and magazines). There was the six months I spent as  a project manager and nerd-translator at a web development agency that went bust after six months, but honestly that wasn't my fault.
My current role is Global SEO Director for Hilton Worldwide, the world's best hotel chain. In that position, I've come to appreciate how difficult it is for the ordinary web developer to find decent, interesting and search engine attention-grabbing stuff to fill all that hard-disk space at the right price.
Families are like fudge … mostly sweet with a few nuts

— anonymous
My task is to make sure that Hilton's websites worldwide not only adequately describe and promote its great range of hotels in an easy-to-understand manner but also to give visitors many reasons to come back.
Hopefully, after reading this and other pages to come you'll see that I have some experience in content matters. It's good to share.